Zigbee Platform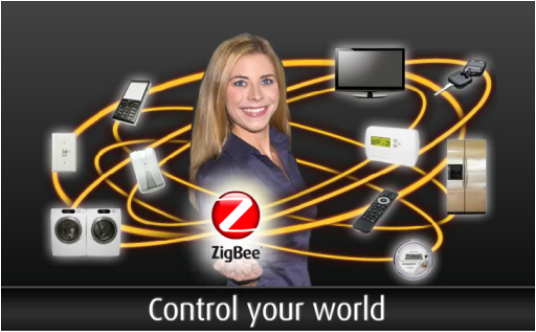 The ZigBee Chip
With the new
OpenWay CENTRON Polyphase Smart Meter
attached to your home, it is important to know it's components and what it is capable of doing. Included on the motherboard of your new computerized meter is a
ZigBee
® radio chip which stores and transports data over a network for:
data presentation,
load control, and
demand response.
Data storage capability to support:
time-of-use (TOU) pricing,
load profile data,
two-way communication,
positive outage detection and restoration notification,
voltage monitoring,
automatic tamper and theft detection,
ability to reprogram the meter remotely, and
ability to upload new firmware via the network.
What is ZigBee?
ZigBee is an alliance of companies working to enable
wirelessly networked monitoring and control products for appliances and other devices based on an open global standard to make sure they are compatible
.
What is "demand response"?
"Demand response" programs
encourage consumers
(charge high rates or shut off)
to reduce or shift their electricity use
(e.g. from afternoon to evening) in response to price signals or to reduce the possibility of overloading the electric grid in times of high demand. Such programs, now available to commercial and industrial customers, could be extended to residential and small business customers with smart meters. Through such optional (like the Smart Meters?) programs, utilities could offer price incentives, payments or rebates to consumers for shifting or reducing their electricity consumption. Under such demand response programs, with customer authorization,
utilities can cycle air conditioners off or adjust programmable communicating thermostats when demand for electric service exceeds available supply
." ---From
CenterPoint Energy
, a Houston-based utility
From
Smart Grid News.com
an industry publication written by Erich W. Gunther is Chairman of EnerNex Corporation. He chairs the UtilityAMI / OpenHAN standards group and serves on the GridWise Architecture Council. He writes:
"The ZigBee capability allows the meter to interface with compatible equipment such as a
thermostat
inside the premise, as well as other "nearby" devices such as
gas
(Itron's OpenWay Gas Module is one example) and
water meters
, over what is known as a home area network (HAN). The meter participates in the HAN by communicating directly to the equipment or through a device known by several monikers, the home "gateway" or "smart controller". The meter contains:
load-limiting (aka...shutting off during peak demands),
programmable disconnect/reconnect switch allowing utilities to meet their business case needs with respect to customer turnover (move-ins, move-outs) (aka...shutting off for SCE's business needs),
revenue protection (aka....non-payment of my bill),

demand response programs (aka....too much demand and off you go)."
(Note: Editor comments in
red
).
---