Is Microwave Radiation Harmful?

If the Smart Grid is so safe, why did the federal government EXEMPT it from a Environmental Impact Study?
Overview

It is confusing to consumers, because there are two camps. On the one hand, the utility companies say Smart Meters are as safe or safer than cell phones. The other camp refutes these statements saying that Smart Meters pose serious health consequences and there is not enough research to determine the short term as well as long term effects of constant exposure to pulsed RF radiation.

The answer in this ambiguity is always "...more research needs to be done." These are serious questions and until safety can be more certain we should err on the side of caution and take the Precautionary Principle to Smart Meters.

How is using a cell phone different from a Smart Meter?
Choice. We can choose to own a cell phone and how much to use it. Smart Meters are forced on our homes exposing us to constant 24/7 pulsed RF radiation.
Level of radiation. According to researchers, Smart Meters produce substantially greater levels than those from point source WiFi routers, microwave ovens and cell phones.
How does a Smart Meter constantly pulse RF radiation?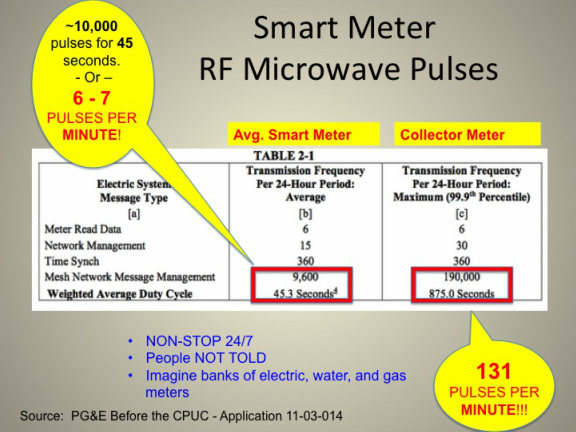 Currently, SCE is in the process of converting all our analog electrical meters to digital wireless meters. Meter readers will no longer be required to come to your home.
All of your electric usage will be transmitted wirelessly back to SCE through elevated pulsed RF levels on a
continuous 24/7 basis
. 
Like cell phones, Smart Meters produce pulsed
Radio Frequency (RF) radiation
. However, Smart Meters never turn off.
They these meters continuously communicate with each other, or "chatter", virtually constant
up to over 10,000 times per day of pulsed microwaves
.
For every 500 or so homes, a toxic
Collector Smart Meter
is installed which works to communicate data back to pole-mounted routers. You do
NOT
want one of these forced on your home (
see picture here
).
SCE claims the Smart Meter only pulses for 45 seconds per day. That could be true as the pulses are in micro-bursts ever few seconds which over a 24 hour period adds up to only 45 seconds. This is how SCE is able to provide the customer with real-time data usage.
---
Is RF radiation dangerous according to the FCC?
SCE states that they are

FCC compliant with current RF radiation safety standards

. However, many researchers state that these FCC standards, written in the 1990's, are

inadequate and outdated for today's wireless society

.

Most utility or government-sponsored studies only account for one Smart Meter on a home, but with the addition of natural gas and water Smart Meters, the risks are tripled. And imagine the

effects from clusters of Smart Meters on apartment houses

!

How many

people have to get sick

before the FCC updates its exposure (non safety) standards?


FCC RF exposure standards were created 20 years ago in 1996 when we were still carrying bricks as phones. A lot has changed since then and the FCC is still using the same outdated exposure limits (notice it does not say 'safety' standards). They were based on one 30-minute exposure to 1,000 uw/cm2 of radiofrequency (RF) microwave radiation on an average-sized military man. The FCC says this is the limit where the man's tissue starts to heat up. The FCC uses this broad safety standard for ALL wireless devices, for ANY type of person and for ANY length of time.

FCC RF exposure standards only considers heat (thermal) effects as dangerous. They do not consider any other health effects (non-thermal) as dangerous and thus there are no standards for non-thermal biological effects. For example, prior to the man heating up he could suffer headaches, his heart could be effected, his nerves could start to tingle, he could be getting anxious and cannot concentrate, maybe he is having problems breathing, his sperm might be dying off, cells might be mutating, etc. (Note: All these effects are found with very low levels of RF radiation. But this doesn't matter to the FCC. As long as the man does not get warm then he is considered "safe", according to the FCC.


FCC RF exposure standards do not vary for differences such as duration of exposure, distance from exposure, whether there are any other competing sources of exposure, power energy of exposure, etc. What if the man is sitting 50 yards from 8 cell tower antennas, talking with a cell phone pressed against his head, using a wireless tablet on his lap, and exposed to wi-fi 24 hours a day?

FCC RF exposure standards do not vary for differences such as body weight, sex, age, health status, etc. Where are the FCC limits for small children, pregnant women and their fetuses, the elderly, or those with compromised immune systems? Should exposure for average-sized military man using radar equipment be the standard? Can one size fit all?

For the 10-year time period shortly after the 1996 FCC RF standards were written there has been a 50% increase in frontal and temporal lobe tumors, according to UK's Office of National Statistics (between 1999 and 2009).


Which reports did SCE rely on to prove that Smart Meters are considered safe?
---
Experts Speak Out

Retired Microwave Expert Speaks Out

British military expert, Barrie Trower, tells us why wireless computers, cell phones, cordless phones and other microwave radiation devices like Smart Meters are NOT safe for children.
---
Dr. Magda Havas, Univ. of Trent



Smart Meters have an antenna which will create a

wide-area Wi-Fi like they now have in Santa Clara

. Is WiFi safe?




Learn how the Wi-Fi routers used in schools differ from those in homes; learn about studies that have documented the adverse effects of this radiation on rats, blood cells, the heart, cancer; learn about alternatives to wireless routers that are cost effective, energy efficient and that don't emit microwave radiation.
---
Damage To Plants

This meter sends signals almost continuously, as can be seen and heard by the radio frequency meter readings. The damage caused by the radiation can be seen very clearly in this video. The harm to the shrub is much worse close to the meter and the damage decreases with the distance. At about three meters away, the shrub is quite healthy with bright green leaves. The leaves closest to the meter appear to be dried and diseased.

The resident of this home has suffered sleep problems since the meter was installed.
Common Myths of The Cancer and Cell Phone Link Debate
MYTH
:
EMFs (electromagnetic fields) don't have the ability to cause cancer.
FACT
: Electromagnetic Radiation (EMR) encompasses both EMF (wired) and RF (wireless). EMF consist of magnetic and electric fields and they have been
linked to cancer as well as a whole host of other biological effects
. RF or radio frequency has been linked to cancer. It is important to learn that you don't have to get cancer to be sick from EMR. Biological changes occur when exposed to EMR.
FACT
: Not all radiation is the same.
FACT
: There are 2 classes of electromagnetic radiation: ionizing and non-ionizing. Ionizing radiation is the radiation that is linked to cancer. It includes Alpha, Beta, Gamma, Neutron, and x-rays. Non-ionizing radiation inlcudes: visible light, infrared light, microwaves, radio waves, low frequency electromagnetic waves, and thermal radiation (heat).
MYTH: Cancer.org states that non-ionizing radiation has been studied and there is no research to suggest that it can cause any sort of cancer. It is simply not strong enough.
FACT:
The American Cancer Society is part of a
conflicted Cancer Industry
and are not a trusted resource. There are
thousands of studies
showing biological effects and health damage with microwave radiation or low levels of EMF. Sad to say, but science has been corrupted by big business. Dr. Henry Lai examined the results of cell phone studies documenting biological effects and found that
results depended on who funded the study
.
Without the ability for our bodies to repair itself cancer can has a place to grow. Non-ionizing radiation creates an environment for cancer to occur by creating
oxidative stress
and
free radicals
.
MYTH: Also our bodies do not store/ build up this sort of radiation.
FACT:
Our bodies need time to heal and not be bombarded with non-stop pulsed microwave radiation.
MYTH: Radiation emitted from cell phones, TVs, and wireless routers are not harmful to the human body.
FACT
: Where is the study or any evidence to show that non-stop pulsed microwave radiation is safe? There is none. Where is the study that shows that there are no long term effects of microwave exposure? There isn't any.
Much effort has been made to
create doubt
into the minds of the consumer. As former Motorola whistle-blower
Dr. Robert C. Kane described in his book Cellular Telephone Russian Roulette (pdf)
, the cell industry is in the business of selling a "belief system" and use "spin doctors" to discount "research findings of cancer causation or DNA damage". He died of a brain tumor after working in the "design and development of cell phones, radio frequency mobile radios, microwave telecommunications systems, video display systems, and biological effects research".