RF Meters Compared

You can only mitigate radiation from your home if you can find it.
There are many different RF meters available, but these are the ones that we own and like. They range in price based on their features, which we have attempted to boiled down to somewhat layman's terms.
What RF Frequency Range do you want to measure?
RF Frequency Range - It's good to have a wide frequency range as devices emit RF radiation at different frequencies. For example, Smart Meters, WIFI and Bluetooth typically work at 2.4 GHz, microwave ovens at 2.45 GHz. Older meters that only go up to 3 Ghz may give a false sense of security as they will not be able to detect devices up in the newer 5-6 Ghz range such as WiMAX and WLAN.
How must power density would you like to measure?
Measurement Range - Having a meter that measures within the FCC limits would be like measuring a football field with a toothpick. The FCC is only concerned with you catching fire. A meter should be to help you find the range of EMR that is safe in your home. The higher power the more potential danger.
Do you want to "hear" the RF radiation?
Audible Sound - RF radiation converted into sound not only lets you know how close you are to the source but it can also differentiate between different types of RF. Cell towers, Bluetooth, WiFi, cell phones all have different sound patterns. Another use for an audible meter is in teaching other about the dangers of this form of radiation. The sounds are very annoying.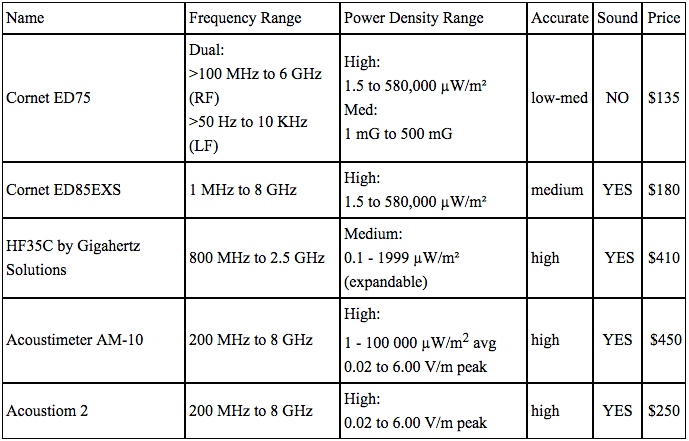 Cornet ED75
(Approx. $135)

RF/ EMF meter
RF Range: 100 MHz to 6 GHz (useful up to 8GHz).
EMF Range: Gauss meter 50 Hz to 10 KHz.

Size: Small, compact handheld design, 69mmX110mm. Can fit into a purse or pocket.
LCD Histogram and bar display to display power density level.
Analog RF(AM,FM) and Digital burst RF(GSM,TDMA,CDMA,DECT, ZigBee, Bluetooth, UWB, WiFi, WiMAX 2.4GHz, 3.6GHz, 5.8GHz).
Accurate, easy to use device, excellent for personal Electrosmog exposure evaluation for living environment.
Build-in Sensing Antenna.


Cornet ED85EX
(Approx. $180)


RF meter
Range: 1 MHz to 8 GHz (useful to 10GHz)
Poor sound option and a free case.
Size: Small, compact handheld design, 69mmX110mm. Can fit into a purse or pocket.
LCD moving graphic Histogram and Bar display to display signal power level.
Ultra fast color LED 8 segment level display for easy signal level indication.
Continue wave (AM,FM) and High speed Burst RF(GSM,TDMA,,CDMA, Wi-Fi,WiMAX).
External SMA connector : (50ohms) for external Antenna, attenuator, and filter. Additional antennas can be purchased separately. It comes with the one shown here.

More specs and data sheet can be found here and a good review and video of an older version without sound can be found here.



HF35C by Gigahertz
(Approx. $410)

RF meter
Range: 800 MHz to 2.5 GHz
Excellent sound option
Size: 71mm x 225mm x 31mm (W x L x H) Too bulky for a purse.
Made in Germany by Gigahertz Solutions.
Audio analyses for the identification of pulsed radiation sources (mobile radio (GSM, UMTS/G3), smart meters, cell phones, WIFI, cordless telephones (DECT), WLAN (Bluetooth), air-traffic control radar) by means of an acoustic signal proportional to the modulation frequency.
Display of peak value as well as average value (switchable).
Sensitivity increased by a factor of 10 (from a minimum display resolution of 0.1µW/m² to a maximum of 1999 µW/m²).
Weight: .49kg
2 years manufacturer warranty & long-time ex gratia agreement
Comes in a cardboard storage box with a manual.



Acoustimeter AM-10
(Approx. $450)

RF meter
Range: 200 MHz to 8 GHz (up to 10 MHz)

Excellent sound option
Size: 190mm x 102mm x 33mm (LxWxD). Bulky and a bit heavy for a purse.
Two line LCD displaying actual levels:
» Peak exposure levels in V/m
» Peak hold levels in V/m
» Average exposure levels in µW/m2
Two lines of LEDS displaying actual levels:
» Peak exposure levels in V/m
» Average exposure levels in µW/m2
Pulsing signal may be heard through the internal speaker

2 year manufacturers warranty
Weight: 280g, excluding batteries

Acousticom 2
(Approx. $250)


RF meter
Range: 200 MHz to 8 GHz

Good sound option
Size: 110mm x 63mm x 21mm (LxWxD). Fits in purse.

Color coded LED's which identify peak power density
Sound signal may be turned on and off

More specs and review can be found here.