Warning: Opt Out Decision
Coming Dec. 4th...

and it's NOT good news.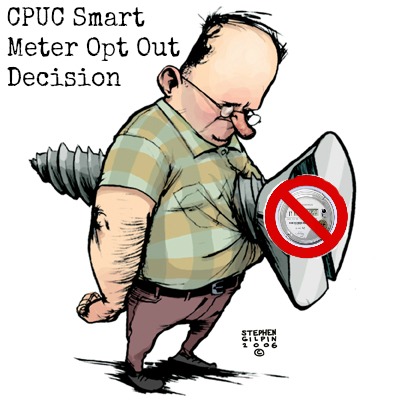 Is this a statement from the "non-prejudicial" judge?

"It is in everyone's interest to promote moving to smart meters."

- Judge Amy Yip-Kikugawa, CPUC proposed decision.

---
SUMMARY OF CPUC PROPOSED DECISION ON OPT OUT PROCEEDING
The following is from the
EMF Safety Network
, intervenors in California's Phase 2 smart meter opt out proceeding:
California Public Utilities Commission (CPUC) Judge Amy Yip-Kikugawa and President Michael Peevey have issued two proposed decisions in the smart meter opt-out proceeding.
Here's a recap of what they state:
Give 37 million dollars to Investor Owned Utilities (PG&E, SCE, SDG&E and So Cal Gas) for providing the opt-out program. (Ed. Who audits and verifies these supposedly necessary costs?)
Adopt permanent fees for residential customers who "do not wish to have a wireless smart meter".
Continue the same interim fees of $75 initial fee, plus $10 a month, and $10 initial fee and $5 a month for low income.
Local governments and multi-unit dwellings may not collectively opt out of smart meter installations.
Charging an opt-out fee does not violate the Americans with Disabilities Act (ADA).
They will not address health and safety impacts in this decision.
Assess fees on a per location basis, for example if you have two or more meters on your property, that will be one fee, per utility company.
If you have two utilities, they can both charge you fees. (Ed. Southern California Edison AND Southern California Gas will EACH charge fees. PG&E and SDG&E areas only get charged one fee.)
Peevey proposes putting a cap on the opt-out fees at 3 years.
Both Peevey and Yip-Kikugawa refuse to consider a no fee option.
A proposed decision is not necessarily the final authority. In 2011 the proposed decision stated the opt-out meter for PG&E would be a radio-off smart meter. After
strong public opposition
the final decision allowed for the analog meter.
According to CEP
: Once this proceeding is closed - likely in December, 2014, the CPUC decisions will be followed. The current opt-outs could become more expensive or be taken away, at any time in the future, the way the interim CPUC plan was written. We are very concerned that what doctors say are hazardous smart meters could be forced on us all, once again. We are concerned about those who cannot afford the opt-out fees, about those subjected to large banks of meters, about commercial meters that don't even qualify now for an opt-out - about smart meters harming the public with little recourse.
---
CPUC PROPOSED DECISION AND RESPONSE
The Center for Electrosmog Protection (CEP) presented a strongly worded critique, pointing out that health and safety, denied as a factor by Administrative Law Judge Yip-Kikugawa and Head Commissioner Michael Peevey (see below), is required to be considered; that opt-out fees should be lowered or eliminated; and that Community Opt-outs must be allowed.
Here is the CEP Comment on the Proposed Decisions: